Welcome to
Roots IVY

International

Flagship

Campus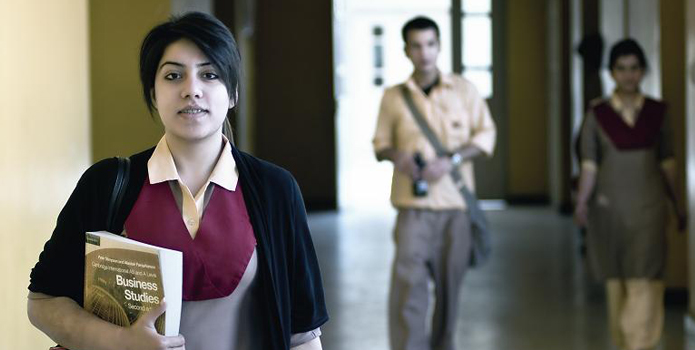 About
Roots IVY International
Roots School System RSS is a model private sector educational institution styled on the modern educational system of international standards, specially designed to meet the requirement of the students to meet the challenges by involving the three E's approach EXPOSURE - EXPANSION - EXPLORATION. Established since April 1988, Roots has innovated modern education standards, with universally acclaimed academic excellence and all round development of students.
Roots School System has more than 52 Campuses nationwide with an incessant increase in student number to nearly 15,000 plus students today. Roots have achieved academic excellence and all round development of students for over 23 years.
Roots School System is the parent organization and manages the following three tiers of education system. Roots School System is the only school in Pakistan providing continuous education from Montessori to undergraduate level.
Roots Perspective
The foundations of our perspective are the things we have always stood for celebrating, diversity, creativity, vitality & excellence. The world is changing dramatically and the things that make Roots different are now more relevant than ever before. Diversity is important because the huge range of different disciplines, culture, backgrounds and point of view of the school / college, make it a uniquely challenging learning environment perfectly suited to the kind of world we send our graduates out into.
Creativity
Creativity has made Roots an innovator in so many fields, but we recognize that at the heart of our creative culture is the ability to thrive in a complex and ever changing environment.
The Vitality
The vitality of Roots comes from the fact that, despite being one of the biggest and most rapidly expanding school / college, everything that happens here happens between people.
More than anything else, these encounters provide an opportunity for people to transform their lives by liberating their energy and abilities. And excellence at Roots is not just about competition and self-advancement, but about a community of learning that cares about its members and actively helps them to achieve the best they are capable of.
Our Achievements
The achievements of our students are possible because Roots is lively learning community on a human scale, in which it is still possible to foster a sense of individuality we encourage our students to contribute towards the community as well as benefitting from it.
At Roots we will always put needs, welfare and experience of our students & Staff first. We will place a high value on developing a mature approach to learning in which students are encouraged to challenge conventional wisdom, handle complexity and benefit from difference and diversity
Roots has a reputation for being challenging so you're certain to come into contact with ideas. New concepts, new achievements. You'll find yourself turning problems inside out and upside down. Defying convention. Thus rewriting the rules.
We are committed to making sure that you are offered high quality teaching and learning environment at Roots. As part of each sections quality assurance mechanisms, we take an active part in monitoring quality and standards by providing regular feedback on the content management and delivery of the courses. Teaching standards & Programme Monitoring Committees from Department of Quality, Curriculum and Teaching Standards Monitoring make regular visits to Roots Classrooms Nation wide and make recommendations about the quality and standard of programmes of study.